The Teacher. The Teachings.
Community.
yoga and meditation
We offer over 30 yoga classes per week for all levels and tastes. Join us for one of our classes in All Level, Ashtanga, Gentle, Meditation, Intermediate, Yin or Restorative yoga.
organic juice bar
Our yoga studio is located footsteps away from Schwee Tea organic juice bar and cafe. Finish your practice with an organic juice, smoothie or a delicious meal. We're also located directly next to Pangaea Naturals Health Food Market.
giving back
We're reducing our footprint by offering our members delicious filtered water and digital receipts. Our retail items are making an impact too! Through offering eco-friendly yoga mats to borrow or purchase, as well as retail items hand-crafted by members of a non-profit organization, we continue to give back in every way possible.
meet our family
You are family, not customers. We welcome you no matter where you are on your path. Welcome hOMe.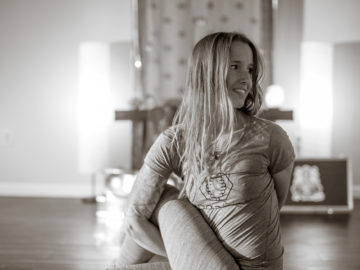 Jenn McConnell
Yoga Teacher / Queen Bee
As a student and registered Yoga teacher, Jenn McConnell has been cultivating her personal style of teaching for the past fifteen years in and around the New Jersey Shore area. Jenn received her 200 hour teacher certification in Sivananda Yoga at the Freehold Yoga Center in Freehold, NJ.
Her continued love and commitment to deepening her knowledge led her to complete an advanced 500 hour training in Vinyasa Flow Yoga with Laurie Greene at Yoga Nine in Smithville, NJ and Edward Clark at Tripsichore Yoga in London, UK whom she credits with helping her expand her knowledge of both Yoga and teaching this sacred path.  Jenn gives thanks to all her teachers both past and present. Through her own body's experience Jenn began to understand that by linking her breath to her movement, the practice becomes a moving meditation, one that unites body, mind and spirit.  The benefits of reduced stress, increased balance, strength and flexibility are just some of the results of consistent practice along with ease of body and joy in spirit.  Jenn's classes are welcoming to the beginner through advanced and looks forward to being part of your personal transformation.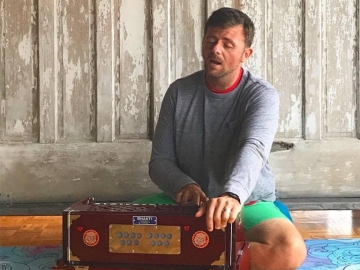 Kevin Corey
Yoga Teacher / Worker Bee
Kevin began practicing yoga through meditation nearly 15 years ago. After realizing the benefits of meditation, he decided to take his first yoga class. Upon leaving the class, he was hit with a wave of awareness and complete relaxation. In 2014, Kevin received his yoga teacher certification studying under Sudha Allitt.
It was then, he made a promise to himself to continue to teach yoga and share its benefits with everyone. "You see, people think you have to be flexible to do yoga, you don't, yoga isn't about touching your toes, it is about what you learn on the way down." When Kevin is off of his mat, you can find him in his garden, the woods or spending time with his beautiful family.
Stephanie Delmanto
Yoga Teacher / Worker Bee
Stephanie studied for her YTT 200 hours with Paula  Padmasri Tepedino from 2000-2001. She travelled to India and stayed at Amma's ashram, Amritapuri, from August to December of 2009. She has also studied basic Sanskrit at Ananda Ashram in Monroe, NY with Bharati and Ma Baskharananda.
She has been teaching yoga since June of 2001, including assisting in teaching basic Sanskrit and yogic philosophy for various teacher trainings. Her main focus in teaching is learning to focus on the body and breath while challenging students to move deeper as they gradually let go of their limitations.
Maryann Reece
Yoga Teacher / Worker Bee
Be brave, be kind, smile and don't let anyone steal your peace!
My yoga journey started around 12 years ago as a way of coping with a diagnosis of cancer.  It helped me get through all the fears, uncertainties and anxieties that came along with it.
I really came to appreciate the healing practice of yoga.   In 2014, to celebrate my tenth year being cancer free, I decided to embark on a 200 hour intensive yoga teacher training.  During that training, I started to lean toward the slower pace of yoga, the more gentle style. Along with my 200 hour certificate from Become One Yoga.  I also achieved both a Yin Yoga Level 1 and 2
Certificate, together with a 30 hour Restorative Level 1 certificate from Laughing Lotus in New York City. I am pursuing my studies toward my 500 hour teacher training, with an emphasis in yin yoga.    I am also Reiki Level 1 and 2 trained under the guidance of Malia Murphy.
Peter Kercheval
Yoga Teacher / Worker Bee
Yoga came to me in 2006 and it began to work in me in ways that I can't put into words, later came Ashtanga and with it a new dimension of the breathe. It's a pleasure and honor to share this beautiful practice.
Rose Dease
Yoga Teacher / Worker Bee
Rose has a tremendous adoration for humor and fun with her energetic personality! She grew up on the beaches of the Jersey Shore and admires nature, particularly the deep blue sea. Rose values family, friendship, laughing, but above all, self-care!
The first day she went to a Yoga studio, she dove into an All level, Yoga Nidra, and Bikram style class within an 8 hour span, receiving all the benefits that Yoga had to offer. From there on out, attending a Yoga class was a time for internal inventory, seeking truth, and strengthening the body. Progressively falling in love with the practice, two years later she received her 200 hour teaching certification from Hot or Not Yoga in June 2015. In the meantime, Rose also became a certified Reiki Master and graduated with a BA in Psychology. Needless to say, she is interested in personal growth with respect to the educational and holistic approach. Depending on the nature of her classes, you can generally anticipate being challenged, receive Reiki infused adjustments, and end with a period of harmonious relaxation.
"Who looks outside, dreams; who looks inside, awakes" ~ Carl Jung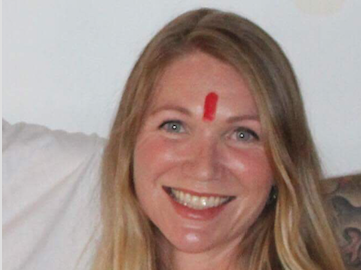 Heather Committee
Yoga Teacher / Worker Bee
"Breathe it all in, love it all out." Mary Oliver
Heather tried yoga for the first time at age 36 as a counter balance to an active lifestyle including being a wife, business owner, mom of three and long distance runner.
She fell in love with the physical exertion and mental calmness she experienced after her first class. What she didn't know then, was how greatly it would change not only her physical body but also lead her to experience the transformative power of connecting the mind, body and soul.  At age 40, she decided to deepen her personal practice and share her love for yoga by completing a 200 hour YTT through Liquid Bliss Yoga in Harvey Cedars, NJ and studied under her teachers, Kevin Corey and Jenn McConnell. Through yoga, Heather has experienced personal development and healing that she never thought possible and is excited to share this passion with her students. Through thoughtful classes in a variety of styles, she hopes to guide her students to discover the confidence, inner peace and joy that yoga has given her.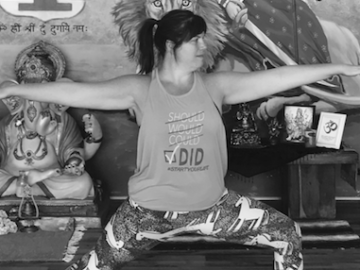 Dorri Petterson
Yoga Teacher / Worker Bee
Guided by her heart, Dorri found yoga and began practicing seven years ago to get through some personal challenges.
Navigating through life as a new mommy and losing her father to cancer all within three weeks time, she was looking for a solution.  The healing that took place, mind, body and soul, from practicing yoga on a regular basis was something that could only be felt, not explained. From that day on, she vowed to follow her heart and share the gift of yoga with the world.
Present day, RYT-200 hr, a graduate from Liquid Bliss Yoga Teacher Training.  Driven by a Love for commUNITY, bringer of positive change.  Always following her heart, doing her part to manifest the world as a place centered in love. Through her teachings, Dorri is spreading love, compassion, joy and all the good feels to anyone who she comes in contact with. Fulfilling her dream of being part of the change that she wants for the world, giving love to all and fostering balance and awakening on and off the mat.
Crystal Froberg
Yoga Teacher / Worker Bee
Crystal finds the beauty and magic in the yoga teachings and she loves sharing her love of yoga with others. Over the last 10 years of her life while being passionate about the healing arts including massage, dance, vegetarianism, and lots of travel, yoga was and is a huge part of her daily life
On and off the mat. In 2012 Crystal moved out to California to study yoga at the Laughing Lotus in San Francisco. The 200 hour Laughing Lotus training was the most transformative, beautiful, heart opening time of her life. Awakening to her soul's purpose on this planet even more. What Crystal offers in her yoga classes is to hold the space for others to heal, get in tune with the rhythm of their hearts and help students remember the sacredness of and in their lives. She invites her students to bring the magic back into everyday life.  To live out your soul's wildest dreams and to embrace the beauty of every moment. Yoga helps her to step out of her head and into her heart. The heart space, where we all should learn to live from. She recently graduated from a 100 hour Art of Attention yoga training in NYC with Elena Brower. This training brought the magic of yoga even deeper into her bones. Refining every cell, thought, and pattern. Crystal feels honored, humbled and privileged to be a yoga teacher in this lifetime. She is ever so grateful everyday for this practice and to the humble joy of being able to share it.
Bridget Barlet
Yoga Teacher / Worker Bee
Bridget began practicing yoga as a recommendation from her doctor, not fully understanding the impact it would later have on her life.
Flash forward 10 years, she graduated from Liquid Bliss Yoga Teacher Training in the Spring of 2017, igniting her passion to share the gift of yoga. Her laid back attitude is reflected in her teaching style, making her classes approachable for all experience levels ranging from beginner to advanced. Her vibe keeps the environment friendly and welcoming. When she isn't teaching at studios, she's a freelance makeup artist glamming up everyone from grads to brides.
ready to practice with us?
We are all students here. The Yoga Hive is a place of non-judgment. Ahimsa or non-harming, is our foundation. We look forward to practicing with you.